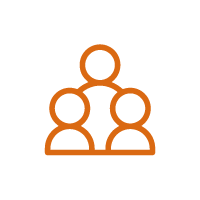 Leadership & Management Development
PEOPLE MANAGEMENT
Adapt your leadership style to each team member and the specifics of the situation!
Contact us to tailor this course
 Overview
The training encourages participants to look at their team, its strengths and development needs, to understand how to more effectively adapt their leadership style to each team member and the specifics of the situation. Attendees are given the opportunity to work on developing their communication skills, delegating, giving feedback, and motivating employees to more successfully guide their employees and more easily achieve expected results.
 Training topics:
How to balance leadership and support?
Levels of employee development — commitment and competencies
Situational leadership – which style is appropriate for which situation
People are not difficult, but different: DISC personality theory
How to use DISC theory for the purpose of motivating and improving communication
What motivates people – Herzberg's theory of motivation?
What does the SCARF model say about motivation?
What, how and to whom to delegate?
Smart delegation – setting a motivating and relevant goal, choosing the right person, preparation, 5P model for delegation
Feedback as a tool for employee development and motivation
Important rules and formulas for giving effective feedback
 Duration
Three 2 hours VILT session
 Price
140 EUR, excl. VAT
Trainer:
Ana Delić is an economist with 15 years of work experience in sales management in the telecom industry. She has been a permanent member of the Tack TMI training team (a Gi Group company) since 2016. Ana has extensive experience in an international company in the field of customer relationship development and sales team management. As a manager she was in charge of retail, affiliate sales, telesales, web sales, and the narrowest specialty was B2B sales. Currently, Ana actively participates in defining organizational, team and personnel needs in the field of business improvement and team management, as well as creating and implementing specific projects and trainings. Some of the topics she deals with are: leadership skills, managing top teams, managing employees who do not meet expectations, communication skills, sales and negotiation skills. During her coaching work, Ana cooperated with companies such as: NIS, Keprom, Domaća Trgovina, Vip Mobile, Coca-Cola HBC, Dr. Oetker, Aptiv, SR Technics, Petrohemija, Mercator, Telegroup, FCA, Boehringer Ingelheim, Fresenius, Ferring Pharmaceuticals, Sopharma, Adoc Pharma, Endava, Panasonic, Ipan, NLB Bank, UniCredit Bank.