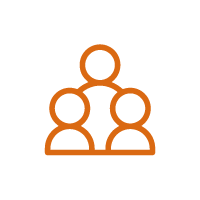 Leadership & Management Development
NEW DIMENSIONS OF FEEDBACK
Don't be afraid of failure or praise, feedback is the key to personal growth.
Contact us to tailor this course
 Overview
The new dimension of feedback takes us back to the beginning by focusing on how we understand feedback and how we can use mistakes and failures as good sources for development. According to the latest survey, 65% of employees asked for more feedback because they want to know where they are in their careers. At the same time, only 1 in 5 employees thinks that their superior gives them constructive feedback, while most employees are not really sure how to use the information given to them. One of the reasons for such a small number of successful feedbacks lies in the fact that most managers are focused on techniques when giving feedback, but in order to use the techniques, we need to understand when to apply feedback, for what reasons, and what are the parameters we must to consider that feedback would be successful and developed.
 Training topics:
Beliefs vs. facts
How emotions and existing relationships affect giving feedback
Learning curve – right and wrong feedback
DISC methodology and feedback – How to use different behavioral styles in creating feedback habits
Feedback techniques and how to lead a feedback meeting:
o Stop, go, continue the model
o GROW model
o CBI model
o Reaction to reaction – how to respond to the employee's reactions to feedback
 Duration
One 2 hours VILT session
 Price
80 EUR, excl. VAT
Trainer:
Boris Bočvarski, Tack TMI external trainer and permanent member of the Generali Academy training team, has been developing and conducting trainings on topics such as: time management, project management, analytical thinking and decision-making, risk management, change management, team facilitation, performance management and feedback. In his work so far, he has created several trainings and training curricula, as well as programs for the development of managers within the company Generali Insurance.
Boris's coaching work and trainings are based on many years of work as a project manager and consultant in the design, implementation and monitoring of projects. He further improved his managerial experience as a portfolio manager of the international SOS Children's Villages Foundation, where he was responsible for providing financial resources through project applications, communication with investors and monitoring of all projects within the organization.