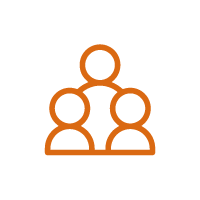 Leadership & Management Development
MANAGING EFFECTIVE MEETINGS
Improve your skills of making meetings efficient, focused, motivating and more productive!
Contact us to tailor this course
 Overview
"I'm pretty sure the dinosaurs became extinct when they stopped looking for food and started meeting to discuss how to find food."
Meetings don't necessarily have to be like Steven G. Rogelberd's quote, but they can play a significant role for you and your company when they are held at the right time, for the right reasons, and in the right way.
Training leading effective meetings is designed for all levels of employees in the organization who want to improve their skills and ensure that their meetings are efficient, focused, motivating and result in increased productivity and employee satisfaction. The aim of the training is for the participants to make distinctions between the types of meetings they organize and the assessments they make in relation to them, as well as to define the steps that lead to the successful implementation of the meetings.
 Audience
This training can be useful to anyone who wants to improve the efficiency of their meetings.
 Training topics:
Types of meetings and Decision tree model
Preparation of the meeting – goal, agenda, minute book
Facilitation of meetings – techniques and principles
Identifying problems and resistance during meetings and how to solve them
 Duration
One 2 hour VILT session
 Price
80 EUR, excl. VAT
Trainer:
Boris Bočvarski
Boris Bočvarski, Tack TMI external trainer and permanent member of the Generali Academy training team, has been developing and conducting trainings on topics such as: time management, project management, analytical thinking and decision-making, risk management, change management, team facilitation, performance management and feedback. In his work so far, he has created several trainings and training curricula, as well as programs for the development of managers within the company Generali Insurance.
Boris's coaching work and trainings are based on many years of work as a project manager and consultant in the design, implementation and monitoring of projects. He further improved his managerial experience as a portfolio manager of the international SOS Children's Villages Foundation, where he was responsible for providing financial resources through project applications, communication with investors and monitoring of all projects within the organization.