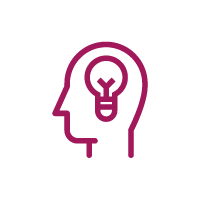 Change & Innovation
CHANGE MANAGEMENT
Paradoxically, if there's one thing that's constant – it's change. In the workplace, the ability to react and adapt to change can be your most powerful weapon.
Contact us to tailor this course
 Overview
The year 2020 brought an even greater acceleration of the otherwise too fast pace of work and business changes in organizations. It is not an insignificant circumstance that the changes this year are drastically less planned and prepared for communication. In addition to uncertainty and stress regarding business results, the pressure on team leaders is complicated by an additional element of introducing changes in the post-pandemic period: new ways of working, returning to the "old", introducing the "new normal", responding to changes in consumer behavior.
Support for managers at this time is critical to rehabilitating business results and team performance in a currently unpredictable business context. This program provides them with key practices that need to be taken into account in order for the changes that (in) lead in the post-covid period to be better accepted and implemented by employees.
 Training topics:
The face and back of agility in business today
What is my role as a manager in relation to changes in the organization
Key aspects of leading and communicating change
Personal attitude towards change – what if I do not agree with the change?
How to detect and manage employee resistance
What makes a leader's credibility when he calls for change
Balance of trust and distrust in the team – How to increase the experience of trust in the leader
 Duration
Two 2 hours VILT session
 Price
110 EUR, excl. VAT
Trainer:
Marina Delić is a certified Tack TMI master trainer and facilitator of group processes. In her ten years of consulting experience, her focus is on designing programs that support the development of people with reference to the real business context and goals of the company, and carrying out development projects with extended learning effects and behavioral changes. She specializes in the topics of interpersonal and systemic relationships within organizations, influence, development of mentoring skills of managers, innovative business and planning. In its portfolio, there are over 700 sessions, both training programs in these areas, and specially designed sessions with the aim of team problem solving, team coaching and innovative thinking. In addition to the roles of consultant and facilitator, Marina's current position is Head of Learning & Development at Tack TMI Serbia, Montenegro and Croatia.