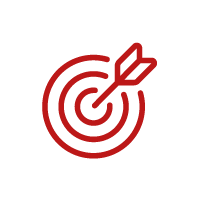 Sales Excellence
SALES IN A VIRTUAL ENVIRONMENT
How to attract, retain and direct the client's attention when time is the enemy
Contact us to tailor this course
 Overview
One of the biggest fears of sales representatives is the loss of personal contact with customers. The imperative of the new time is that teams that want to continue active sales will increasingly conduct their meetings in a virtual environment. This training aims to increase participants' confidence in preparing and conducting a virtual sales meeting. Through the training, participants will master the preparation and manner of presentations that promote customer interaction and engagement in order to achieve the sales goal.
 Training topics:
Key challenges in virtual presentation and preparation for overcoming them
Preparation of the presentation and its structure
How to attract, retain and direct the client's attention when time is the enemy
Building a relationship of trust with the client
How to engage the client using visual media
Presenting your proposal through three steps: relevance, value and proof
Agreeing and negotiating further steps of cooperation
 Duration
2 hours VILT session
 Price
80 EUR, excl. VAT
Trainers:
Ana Delić is an economist with 15 years of work experience in sales management in the telecom industry. She has been a permanent member of TackTMI (a Gi Group company) training team since 2016.
Ana has extensive experience in an international company in the field of customer relationship development and sales team management. As a manager she was in charge of retail, affiliate sales, telesales, web sales, and the narrowest specialty was B2B sales.
Currently, Ana actively participates in defining organizational, team and personnel needs in the field of business improvement and team management, as well as creating and implementing specific projects and trainings. Some of the topics he deals with are: leadership skills, managing top teams, managing employees who do not meet expectations, communication skills, sales and negotiation skills.
Snezana Isaković, a sociologist, started her training career working in the non-governmental sector, dealing with informal education and realization of seminars and trainings on the topics of project management, communication, team management and similar.
Since 2016, she has been a permanent member of  TackTMI (a Gi Group company) and actively participates in training and development consulting projects, both through the creation of individual and group development solutions, and through the implementation of training programs. As a trainer and facilitator, Snežana actively conducts trainings in areas of: time management, communication skills, facilitation skills, stress management, DISC methodology, sales skills, mentoring, effective meetings.
During ten years of delivering trainings and facilitation, Snežana gained rich experience working with teams from different industries and hierarchical levels.