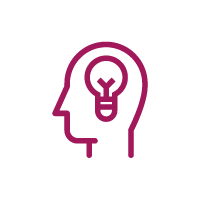 Change & Innovation
PROJECT MANAGEMENT
Everything you need to know about project management, project logic and project planning.
Contact us to tailor this course
 Overview
The goal of this training is to learn and improve:
How to recognize the business need to start a project and develop the project as a tool for business change,
Tactical initiation, planning and project management,
How to define the business goal in the project business, determine the scope of work, plan resources and successfully monitor and control the course of the project,
How to identify the different interests and influences of a number of stakeholders and successfully manage them during project implementation.
How to create interactive project teams composed of different directorates
The training is formatted for beginners, with the aim of introducing the project logic and basic tools of project planning.
 Training topics:
Project vs. process management: when, how and why we start projects, defining the project in the company structure
Roles of the project manager, project client and project team members – RASCI model
Analysis of stakeholders and problems / opportunities
Project brainstorming – creating solutions
Project matrix – project triangle, defining the scope through goals and outcomes
Structuring tasks – WBS and Gantt charts
Line responsibility matrix – plan of indebtedness / responsibility and key deliveries
Risk analysis & risk management on the project
Planning time and resources in the project
Project budgeting
Controlling projects, predicting completion times and costs at the end of the project
Project administration and reporting
 Duration
Four 2 hours VILT session
 Price
250 EUR, excl. VAT
Trainer:
Boris Bočvarski, Tack TMI external trainer and permanent member of the Generali Academy training team, has been developing and conducting trainings on topics such as: time management, project management, analytical thinking and decision-making, risk management, change management, team facilitation, performance management and feedback. In his work so far, he has created several trainings and training curricula, as well as programs for the development of managers within the company Generali osiguranje.
Boris's coaching work and trainings are based on many years of work as a project manager and consultant in the design, implementation and monitoring of projects. He further improved his managerial experience as a portfolio manager of the international SOS Children's Villages Foundation, where he was responsible for providing financial resources through project applications, communication with investors and monitoring of all projects within the organization.