Use the summer for personal development
As in previous years, summer is reserved for our development initiative Summer4Growth.
Through four two-hour online workshops, we talk about topics important for strengthening personal strengths and skills.

Recognize, name and experience the emotion



11.08.2022, 14-16h
At the very beginning, you will be greeted by the program Become aware, recognize, name and experience an emotion, where we will talk about emotional intelligence with Eva Velimirović. Emotional literacy is a skill that allows us to understand our own feelings and know what to do with them. When we understand what we feel and why we feel something, we also develop the ability to understand other people's feelings, which brings us multiple benefits: we better understand ourselves and others.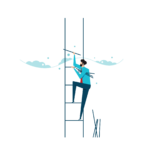 Create a rhythm and persevere
24.08.2022, 15-17h
Boris Bočvarski will work with us on creating habits during training Create a rhythm and persevere. Each of us is unique in relation to our reactions, our way of perceiving and interpreting reality, dealing with stress, and above all in relation to our habits. Habits define us, but the process can also be reversed – we can determine which habits we want in life and when.

Redefine your thoughts, maintain optimism



29.08.2022, 14-16h
After that, we come to the training Redefine your thoughts, maintain optimism with Vladimir Borovnica. The years that are behind us, and seemingly those ahead of us as well, carry with them a lot of negative experiences, losses, difficulties, challenges… All this has greatly burdened us, and our ability to remain optimistic and look at things positively seriously shaken.

A look at everything from a different angle
31.08.2022, 14-16h
Finally, for the "grand finale" we have prepared a very interesting workshop View of everything from another angle, which will be led by our Marina Delić. 6 hats is the concept of looking at problems from different angles in order to make quality conclusions and decisions. This approach takes you beyond any instinctive positions, so you explore a range of perspectives.
The price of an individual trainings is 80 EUR + VAT.
The price of all four of the trainings is 280 EUR + VAT.
For more information about the programs, download the catalog.
To apply, write to prijava@tacktmiglobal.com.
Download Pdf