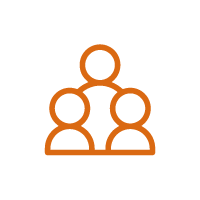 Leadership & Management Development
MANAGING REMOTE AND HYBRID TEAMS
Keep and move productivity, trust, and teamwork from office work to a virtual environment!
Contact us to tailor this course
 Overview
In the face of the pandemic, many of us sailed into the new reality of virtual work, and it brought new challenges to the leaders. Productivity, trust, and teamwork cannot simply be resumed in a virtual environment from previous office work. Through this training, participants will explore the opportunities and challenges that come with virtual team leadership, adapt their already built skills to the needs of the new environment and equip themselves with best practices that result in building and maintaining team cohesion, effective communication and results.
 Audience
Remote team leaders and managers
 Training topics:
The most common misconceptions about virtual work – Magic exists only when we are all in the same place!
Illusions of productivity – advantages of virtual work for performance and efficiency,
We communicate constantly – How to use communication effectively: tools, channels, frequency and effects,
We can achieve greater productivity by establishing a team rhythm – Routines that can help us,
Virtual management requires modification of management style in order to achieve employee independence
How to efficiently delegate and monitor the delivery of tasks – Front stage and Back stage approach
In virtual work, it is necessary for employees to take on more responsibilities. How to give more autonomy to employees and feel safe?
The role of managers in fostering the psychological security of employees – Creating a secure virtual space for team cohesion.
 Duration
Two 2 hours VILT session
 Price
110 EUR, excl. VAT
Trainers:
Ana Delić is an economist with 15 years of work experience in sales management in the telecom industry. She has been a permanent member of the Tack TMI (a Gi Group company) training team since 2016. Ana has extensive experience in an international company in the field of customer relationship development and sales team management. As a manager she was in charge of retail, affiliate sales, telesales, web sales, and the narrowest specialty was B2B sales. Currently, Ana actively participates in defining organizational, team and personnel needs in the field of business improvement and team management, as well as creating and implementing specific projects and trainings. Some of the topics she deals with are: leadership skills, managing top teams, managing employees who do not meet expectations, communication skills, sales and negotiation skills.
Boris Bočvarski, Tack TMI external coach and permanent member of the training team Generals of the Academy, has been developing and conducting trainings for four years topics such as: time management, project management, analytical thinking and decision making process, management risks, change management, team facilitation, performance management and feedback. He has created more in his work so far training and curriculum training, as well as manager development programs within Generali Insurance. Boris's coaching work and training are based on many years of work in the position of project manager and design consultant, project implementation and monitoring. Your managerial experience has further advanced as a portfolio manager international SOS Children's Villages Foundation, where he was responsible for security financial resources through project applications, communication with investors and monitoring of all projects within the organization.